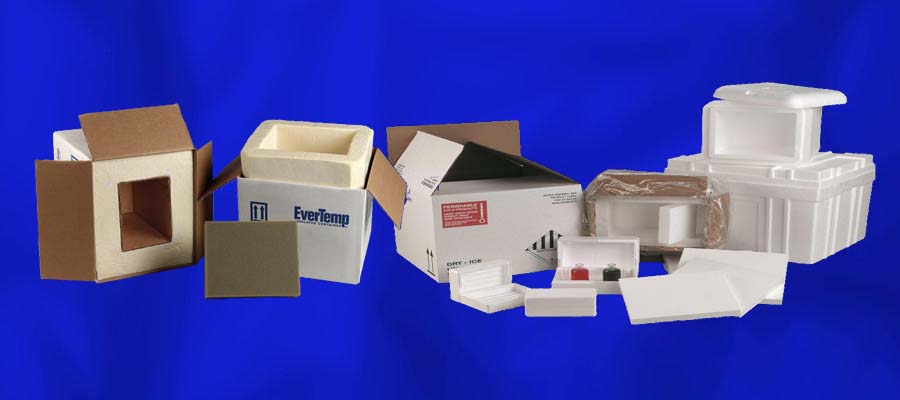 Cold Ice, Inc. offers a full line of thermal packaging.
Our insulated shipping containers are C.F.C free and designed to meet the highest industry standards for strength, durability, and temperature control. Built using the highest grade urethane or expanded polystyrene (E.P.S.), Cold Ice, Inc. has the container for shipping and protecting any temperature sensitive products.
Molded Expanded Polystyrene Boxes E.P.S. foam is economical, durable, lightweight, C.F.C. free and recyclable, ideal for domestic and high volume shipments. They also feature locking lids for a snug, air tight fit. Available in many sizes; custom sizes are available to fit your product, contact us for information on our custom design services.
EverTemp™ Containers Molded urethane is CFC-free, designed with a layer of high performance urethane foam injected between layers of corrugated fiberboard, or a modular removable tub style. This model can be separated for recycling and re-use.
Urethane offers twice the "R" value per inch compared to E.P.S. foam, requiring less refrigerant. EverTemp also features a flexible foam plug that cushions and protects the product and allows venting of dry ice.
Thermafoil Flexible radiant air cell insulation.  With a unique combination of insulating characteristics, Thermafoil utilizes trapped air cells as its primary insulating source.  The air cells act to resist conductive heat flow (R-value).  Reflective foil layers add additional insulating values by reflecting radiant heat.  Thermafoil resists tearing and cracking and is both flexible and reusable.
Custom Design Serivces – Let the experienced staff at Cold Ice, Inc. help you design a custom packaging system for your specific needs. In house thermal testing and container design capabilities allow us to provide the most efficient, highest performing thermal packaging systems available.